Wednesday, April 25, 2007
And, I'm rockin' on the front page of
Rough Guides
website: (nevermind the weird picture!)
more to come.....
love and sunshine, Bekki
Posted by

PinkBird
at 5:50 PM
Links to this post


Tuesday, April 24, 2007
I love when people write about PinkBird. It makes me blush. And, it really helps to know that people like and appreciate the work that I'm doing. With that said, the wonderful Liana from
Mixed Plate Blog
featured PinkBird Creations today!
Check out her great site!
Thanks so much for all of your support!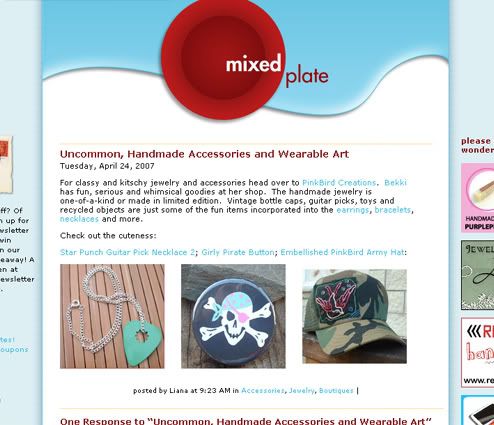 Posted by

PinkBird
at 5:47 PM
Links to this post


Friday, April 20, 2007
This morning I decided that since I have had this registered "blogger blog" forever but never used it that today, April 20th would be the day I begin. I usually post to the
PinkBird Creations MySpace
blog but as of today I think I will (for the time being at least) use both. I do plan, however, to use this space for things and topics other than just the PinkBird store and the happenings around the nest. If you do really want to catch up on PinkBird stuff, you can read the older blog archives
here
.
Until next time, my feathered friends, take it light and take flight,
BEkki
I recently posted this to
PinkBird's MySpace
Blog:
"Awhile back, the lovely lady who writes a blog called
Terramia
mentioned a few of her fave
Pinkbird
items:


Also, over at Madie Jane, just the other day, this was written about
Pinkbird Creations
:


Thanks! You're making me blush!"

Posted by

PinkBird
at 8:53 PM
Links to this post


I've kept a silly little
blog
over on
MySpace
for quite some time now and have finally decided to move it over here. This was a blog I posted way back in June 2006, but it seems like a good place to begin here:
A friend gave me this postcard many years ago (back when nelson mandela was still getting credit for having said it) and since then it has always hung next to my bathroom mirror. I always like sharing it with people....so, here it is. i don't think i need to explain much further.
Posted by

PinkBird
at 7:18 PM
Links to this post